Lesson 4: Bin Operations (Opening Clip – Bin View – Background Color – Opening External Bin – Super Bin – AMA Files).
Language: English
NOTES: The video section of this lesson is dedicated to Bin creating and customization, Importing Files, managing AMA files and more.
Particularly interesting is the section that shows how to use the bin, SuperBin and the tool/plugin "AMA", very important to import the files format created with digital cameras that use the new storage system type P2 cards and the like.
TIPS: Look closely at the videos and learn how to use shortcut keys that matched the custom virtual keyboards will speed up the daily work.
The advice offered in this course come from video years of constant research to improve the relationship, quality-time, in combination with psycho-physical ergonomics.
It's nice to know that at any moment you can change all that we have created up to that point and we can not only adapt to the needs of the assembly but also to our artistic mood.
You can immediately edit or create a new virtual keyboard that makes available to us in the keys most congenial to use the functions at that stage, and after a few minutes re-edit, or select another and all this with a few clicks and without spending a penny more.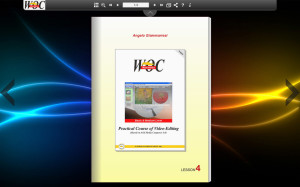 Click on the picture to access the lesson
© Copyright 2014 – Angelo Giammarresi